Abraham Warren Williams, Husband of 1st wife Elizabeth (Shaffer) Williams & 2nd wife Anna Marie (VanDyke) Williams, Grand Island, Mi. Abraham son of Isaiah & Anna (Mattison) Williams, Fulton, Co. Ill. & Jefferson, Co. Ny.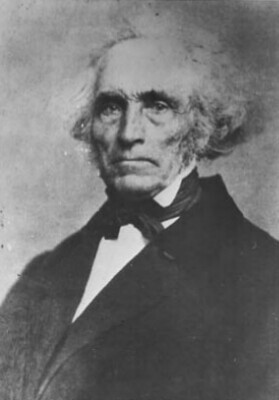 Grand Island's long and interesting story is told with illustrated plaques at the visitor center at the Williams Landing. One notes, "Location was everything in the fur trade. In the early 1800s, American Fur Company traders [employed by John Jacob Astor] and their competitors built small log cabins in or close to Indian settlements on Grand Island and the mainland. Government survey parties and missionaries also visited frequently during this period. European and Native American cultures often mixed during the fur Trade era." One of the American Fur Company's traders' cabins has been moved to the grounds of the Alger County Heritage Center and furnished somewhat authentically, as if it were the end of the season. Not long after American Fur left the island, in 1840, Abraham and Anna Williams and their large family arrived and moved into the company's log buildings, next to the birchbark lodges of he island's Ojibwe band. According to oral tradition, the band had invited Williams to settle so they could make use of his services as a blacksmith and trader. Anna Powell, the Williams's daughter, later recalled, "I'll never forget how the island looked the first time I saw it. I was 12. It was raspberry season. The bushed were loaded down with them. Mother put up lots of them. [The Indians] did everything they could think of to show how friendly they were. They were always giving us children little mococks [birchbark containers] of maple sugar." Over the years, Abraham Williams and his family had purchased large tracts of the island from the State of Michigan, and in order to protect the lighthouse reservation, Congress appropriated the necessary funds to purchase the property from the State on March 3, 1887. By 1896, the Williams family owned almost the entire island, and receiving an "offer they could not refuse" decided to sell their island holdings to the Cleveland Cliffs Company for the sum of $93,701.61. Cleveland Cliffs was the first major company to tap Superior's mineral wealth, having begun mining the Marquette Range in 1850. Incredibly successful, the company purchased the land from the Williams' in order to create a vacation and hunting paradise. Over the ensuing years, the company built a number of vacation cabins, and groomed horse trails led through the woods of the island, which had been stocked with moose, caribou and antelope for the hunting pleasure of company executives and their guests.
Ad blocker interference detected!
Wikia is a free-to-use site that makes money from advertising. We have a modified experience for viewers using ad blockers

Wikia is not accessible if you've made further modifications. Remove the custom ad blocker rule(s) and the page will load as expected.