Alfred Peter Swineford (September 14, 1836– October 26, 1909) was an American Democratic politician who was a member of the Michigan House of Representatives, 1871 to 1872. In 1878 he was the Democratic candidate for Lieutenant Governor of Michigan, finishing third behind Lysander Woodward, the National Greenback Party candidate., and the winner, Republican incumbent Alonzo Sessions. He was the mayor and newspaper editor in Marquette, Michigan.
President Grover Cleveland appointed Swineford as Governor of the District of Alaska, where he served from 1885 to 1889. In 1906, he was a candidate to be the first Delegate to the United States Congress from the District of Alaska, losing in an election on August 14, 1906 to Democrat Frank Hinman Waskey.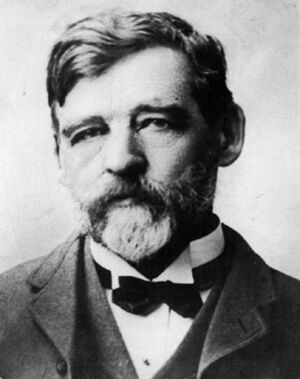 As mayor of Marquette
Predecessor: Samuel Ely
Successor: James Pickands
Alfred was the mayor of Marquette, Michigan from 1874-1875.
He was married to Psyche Flower.
Swineford was born in Ashland, Ohio and died at Juneau, Alaska on October 26, 1909.[1] He is buried in Juneau at Evergreen Cemetery.
Ad blocker interference detected!
Wikia is a free-to-use site that makes money from advertising. We have a modified experience for viewers using ad blockers

Wikia is not accessible if you've made further modifications. Remove the custom ad blocker rule(s) and the page will load as expected.