Ashley Elvetici was an Upper Peninsula resident and bank robber responsible for two bank robberies in the West Toledo Area.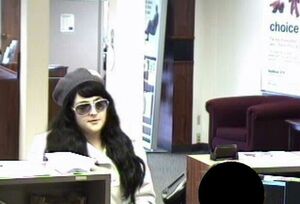 Robberies
Edit
The first robbery Elvetici was charged with happened on January 26th at the Charter One Bank in Toledo. Officials claim she handed the teller a note with a death threat, demanding money and received an undisclosed amount of money shortly before leaving. The second robbery occurred at 9:07 am. at the KeyBank, where she repeated the ritual and fled. Shortly after she was captured at 10:00 pm. by federal agents at a nearby motel and charged with the robberies.
Ad blocker interference detected!
Wikia is a free-to-use site that makes money from advertising. We have a modified experience for viewers using ad blockers

Wikia is not accessible if you've made further modifications. Remove the custom ad blocker rule(s) and the page will load as expected.