The Big Traverse Bay Historic District is a historic district located east of Lake Linden, Michigan at the mouth of the Traverse River. It was listed on the National Register of Historic Places in and designated a Michigan State Historic Site in 1975.[1][2]
The site on which the Big Traverse Bay Historic District now stands was originally a logging camp owned by the Hebard Lumber Company, dating from the last two decades of the 19th century.[2] A substantial number of Finnish emigres moved into the area, working in the lumber, mining, or fishing industries. By 1920, Big Traverse Bay had developed into a primarily fishing community. in the 1950s, construction of a breakwater and changes to the harbor resulted in the demolition of a number of houses, as well as a footbridge across the river. The community remains an active, and relatively isolated, fishing community.[2]
Description
Edit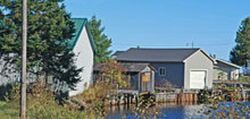 Big Traverse Bay is a small Finnish fishing community located on a peninsula and adjacent mainland at the mouth of theTraverse River on Lake Superior.[2] The community includes approximately 40 small, single-story, gable-roofed houses with aluminum siding an undeveloped yards. Vintage gasoline pumps, net reels, cedar shake-covered fishing buildings, ice houses and saunas are still in use.[2]
Ad blocker interference detected!
Wikia is a free-to-use site that makes money from advertising. We have a modified experience for viewers using ad blockers

Wikia is not accessible if you've made further modifications. Remove the custom ad blocker rule(s) and the page will load as expected.