While in the Keweenaw area you will want to include a stop at the beautiful Bishop Baraga Shrine located just north of L'Anse. Erected in May, 1972, this religious historical monument commemorates the work of Bishop Frederick Baraga (1797-1868). The 35 foot, five ton hand wrought brass statue stands majestically amid the surrounding trees. Situated above the cliffs overlooking Keweenaw Bay, visitors find a peaceful spot to pause amid their travels while learning about the heroic life of Baraga. The bishop spent 37 years as a missionary, traveling an expanse of 80,000 square miles through all seasons of the year. The Bishop Baraga Missionary Center is located on the grounds surrounding the Shrine. The grounds include a Way of the Cross prayer path and a little chapel for quiet prayer.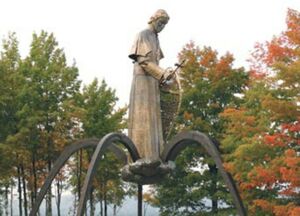 Ad blocker interference detected!
Wikia is a free-to-use site that makes money from advertising. We have a modified experience for viewers using ad blockers

Wikia is not accessible if you've made further modifications. Remove the custom ad blocker rule(s) and the page will load as expected.