"Having an opportunity to interact with all the people while trying to help make a difference in our county is the best part of my job. It truly is an honor and privilege to serve in this capacity."
Brian J. McLean, is the current county sheriff of Houghton County.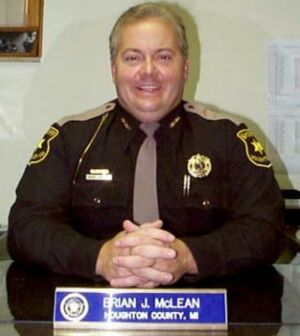 As Houghton County Sheriff
Predecessor: Gary Beauchamp
Successor: n/a
Brian McLean was elected in 1997 as Houghton County Sheriff and has held that position since.
Ad blocker interference detected!
Wikia is a free-to-use site that makes money from advertising. We have a modified experience for viewers using ad blockers

Wikia is not accessible if you've made further modifications. Remove the custom ad blocker rule(s) and the page will load as expected.