Known as the "Lone Pine Camp," Camp Raco was founded on May 2, 1933 as the first Civilian Conservation Camp in the Upper Peninsula. The CCC was a program created by President Franklin D. Roosevelt's New Deal to provide employment for unemployed and troubled young men, who worked on public facilities projects in national parks and forests. Camp Raco was home to company 667, composed of young men from Detroit and Hamtramck. Over the next 9 years, the men at the camp planted trees, constructed trails, planted fish, constructed campgrounds and assisted with fire suppression for over 150,000 acres. In 1942, the CCC was phased out with America's entry into the Second World War. However, soon afterwards, Camp Raco was converted into a camp for over 250 German prisoners of war. Today, the only remaining remnant of the camp is a chimney from one of the camp buildings.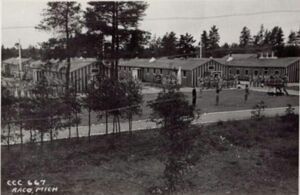 Additional Information
Edit
It is located South of M-28 at its junction with FR- 3154 just east of the village of Raco. The coordinates for the site are: N 46° 22.009 W 084°44.328.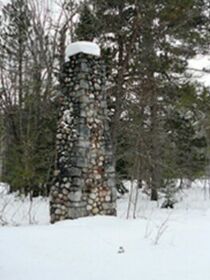 Ad blocker interference detected!
Wikia is a free-to-use site that makes money from advertising. We have a modified experience for viewers using ad blockers

Wikia is not accessible if you've made further modifications. Remove the custom ad blocker rule(s) and the page will load as expected.