At one time Central Mine, opened in 1854, was a top copper producer. It was located in an ancient mining pit along an outcrop below a Greenstone Bluff. The remains of this town are located on the west side of highway 41 just 4 miles north of Phoenix. Cornish miners and their families flocked from Britain and with their extensive mining knowledge they helped make this a successful venture. There are several buildings still standing, most of them occupied by summer residents. You can still see some of the old mine buildings and rock piles as you drive through the village. The old Methodist Episcopal Church, erected in 1868, has been recently restored. There is a reunion held the last Sunday in July with two services at 9:00 and 11:00 a.m. Many descendants of the original miners form the majority of the congregation on Reunion Sunday but visitors are always welcome.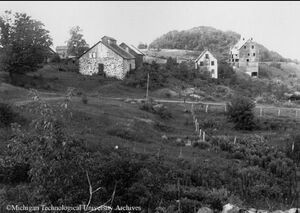 Ad blocker interference detected!
Wikia is a free-to-use site that makes money from advertising. We have a modified experience for viewers using ad blockers

Wikia is not accessible if you've made further modifications. Remove the custom ad blocker rule(s) and the page will load as expected.