Charles R. Goodman is the chief judge for the 12th Circuit Court, the 97th District Court and the Probate Courts of Baraga County, Houghton County and Keweenaw County in Michigan. He was elected on November 4, 2008 and took office the following January 1st. His current six-year term ends onJanuary 1, 2015.[1] He is running for re-election to the12th Circuit Court in 2014.[2]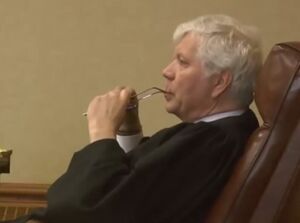 Education
Edit
Goodman received a B.S. from Michigan Technological University, and a J.D. from Thomas M. Cooley Law School in 1976.[3]
Goodman served on the Houghton County Probate Court prior to joining the Circuit Court in January of 2009.[4]
Ad blocker interference detected!
Wikia is a free-to-use site that makes money from advertising. We have a modified experience for viewers using ad blockers

Wikia is not accessible if you've made further modifications. Remove the custom ad blocker rule(s) and the page will load as expected.