Charles Kauppi was a Finnish Immigrant and commercial fisherman who fished and lived in the small community of Gay, Michigan. He also worked for a time in one of the copper mines in the area. In fact, Gay was a mill town and the remnants of that era, copper tailings, still fill what was once a magnificant, sweeping harbor; today it is a moonscape. In 1929, he took one of his fishing boats, the Water Lily, and converted it into a passenger boat and brought it to Copper Harbor to start running charters to Isle Royale which was about to be named a National park.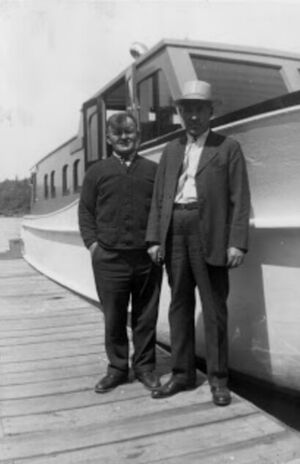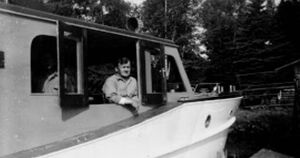 Background
Edit
The first story I heard about Charlie, probably apocryphal, was that on a very stormy morning in about 1943 on Isle Royale with Lake Superior waves mounting between 14 and 18 feet, Charlie told his passengers that they would stay at the island until the lake subsided. Well, a Chicago man, who said he "had" to get back to Chicago, started begging Charlie to make the trip. Charlie was adamant. Finally, the Chicago man said, "Well, I didn't know that Finns had a yellow streak down their back."
That was enough for Charlie. "Okay," he said, "we go."
Two or three others decided that if Charlie would go they would too so the small bunch departed Rock Harbor in the Copper Queen. It was not long before the Chicago man got pretty frightened. The old Copper Queen was plunging and diving in the enormous waves. After about an hour out lake conditions were worsening as they started getting the full force of the waves. After all, the reach on a southwesterly is about 275 miles or all the way from Duluth.
Finally the Chicago man started pleading with Charlie to go back; "I'm sorry," he said. Several times he struggled forward to the small pilot house and begged Charlie to return. Charlie kept going.
Finally, the man asked, "Are we going to make it?"
Charlie answered, "We go as far as we can."
Ad blocker interference detected!
Wikia is a free-to-use site that makes money from advertising. We have a modified experience for viewers using ad blockers

Wikia is not accessible if you've made further modifications. Remove the custom ad blocker rule(s) and the page will load as expected.