The Church of the Assumption is an historic Carpenter Gothic style Roman Catholic church located on US 41, 400 feet east of M-26[2] in Phoenix [3] in Houghton Township, Michigan. It is also known as the Phoenix Church.[4] The church was listed on the National Register of Historic Places in 2000.[1]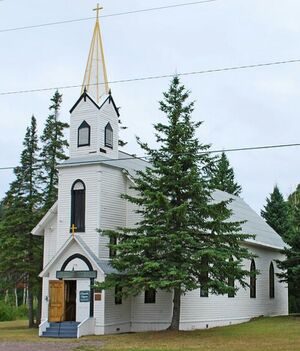 The Church of the Assumption was built in 1858 as St. Mary's Catholic Church [4] in Cliff.[3] In 1899, the church was dismantled and reconstructed in its present location in Phoenix;[3] the name was changed to the Church of the Assumption.[4] Masses were held in the church until 1957. In 1985, the church was purchased by the Keweenaw County Historical Society, which undertook an extensive restoration process.[3] As of 2009, the church (although deconsecrated) is still used for weddings and memorial services.[4]
Ad blocker interference detected!
Wikia is a free-to-use site that makes money from advertising. We have a modified experience for viewers using ad blockers

Wikia is not accessible if you've made further modifications. Remove the custom ad blocker rule(s) and the page will load as expected.