Estivant Pines Nature Sanctuary is a 508-acre (2.06 km2) nature sanctuary in Keweenaw County, Michigan. It is maintained and preserved by the Michigan Nature Association.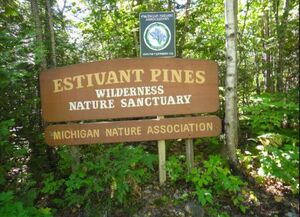 The sanctuary includes what is believed to be the last stand of virgin white pine forest in Upper Michigan. Some of the trees in the sanctuary are 130 to 150 feet high.[1]
In the early 1970s logging began just south of what is now the sanctuary. The Michigan Nature Association (MNA) purchased the land and vowed to protect the 508 acres (2.06 km2) of precious woods
Ad blocker interference detected!
Wikia is a free-to-use site that makes money from advertising. We have a modified experience for viewers using ad blockers

Wikia is not accessible if you've made further modifications. Remove the custom ad blocker rule(s) and the page will load as expected.