The City of Gladstone owns and operates Fernwood Perpetual Care Cemetery.  The cemetery is located on the North Bluff and is approximately 40 acres.  The cemetery is a public cemetery and residency is not a requirement.  The sale of lots consists of family lots (8 lots), single lots and cremation lots.  The cemetery is overseen by a Cemetery Committee, which meets periodically to review rules and regulations; violations, rates, etc.  Rules and regulations are posted at the entrance of the cemetery and copies are available at City Hall.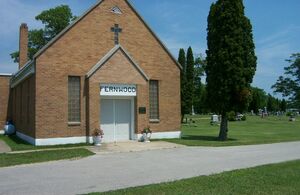 Notable burials
Edit
Incomplete list of individuals buried here:
Ad blocker interference detected!
Wikia is a free-to-use site that makes money from advertising. We have a modified experience for viewers using ad blockers

Wikia is not accessible if you've made further modifications. Remove the custom ad blocker rule(s) and the page will load as expected.