Fort Wilkins Historic State Park is a historical park operated by the U.S. state of Michigan atCopper Harbor, Michigan. It was placed on the National Register of Historic Places in 1970, and is a "Cooperating Site" of the Keweenaw National Historical Park.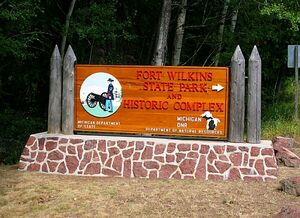 Copper Harbor is located at the northern tip of the Keweenaw Peninsula, bordering Lake Superior. It is one of the best natural harbors in Keweenaw County and was a quick focus of attention after copper was discovered on the peninsula in the 1830s.
In the early 1840s, a copper rush took place, with fortune-seekers moving from all directions to the peninsula. The U.S. government was concerned about possible disorder and violence, and lake shippinginterests asked the government to build an aid to navigation so that essential supplies could be shipped in and the copper moved out.
Fort Wilkins
Edit
See main article: Fort Wilkins
State park
Edit
Copper Harbor Lighthouse complex
Sign on US 41
In 1848, the Copper Harbor Lighthousecomplex was begun on the tip of the eastern point of land, also sometimes called Hays Point, that sits at the entrance of the harbor. In 1923, the fort and adjacent lighthouse became a Michigan state park.
The historic portion of Fort Wilkins and nearby lighthouse are operated as a unit of the Michigan Department of Natural Resources and Environment's Park and Recreation Division as the immediately adjacent state park.
As of 2010, the facility is open to the public in summer months. For ten weeks each summer (June–August) the fort is staffed with costumed personnel; they are historical interpreters portraying Army life during the fort's final summer as an active post.
Ad blocker interference detected!
Wikia is a free-to-use site that makes money from advertising. We have a modified experience for viewers using ad blockers

Wikia is not accessible if you've made further modifications. Remove the custom ad blocker rule(s) and the page will load as expected.