A well known business man of Calumet, Houghton County, Michigan, whose portrait accompanies this sketch, is an extensive wholesale dealer in wines and liquors.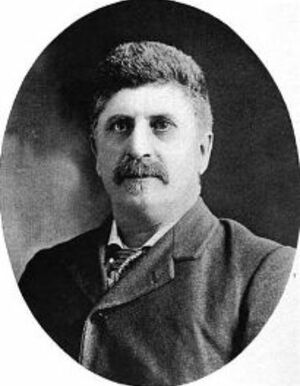 Extensive biography
Edit
He was born in Provincia Di Toscana Citta Di Lucca, Italy, November 22, 1850 and comes of a very interesting Italian family, his ancestors having gone to that country centuries ago from Leon, France. The father of our subject was a merchant in Italy and lived there until his death in 1872, being survived some years by his wife, who is now also deceased. They had four children, of whom our subject is the youngest. He has a brother, P. Martini, an Italian poet of San Jose, California, who enjoys a national reputation; he writes exclusively in his native language, and has done considerable newspaper work. One of the sisters is deceased, and the other resides a Via Reggio, Italy. G. Martini was reared and educated in his native land and served in the Italian Army for nearly four years. In 1875 he came to America, and after remaining in New York a little while spent about one year in New England. Traveling west to Chicago, Illinois, he walked from that city to Houghton, Michigan, carrying a scissors grinding machine. He then engaged in working at the Hecla mine for two years, after which he was made foreman, and served in that capacity for three years. He then engaged in the confectionery and fruit business in Calumet, under the firm name of 'G. Martini & Little of Everything', and carried it on with success until he embarked in his present line of business, in 1899. He carries an extensive and well selected stock of wines, liquors, cordials and cigars. Among the brands of whiskey he handles are some whose merits he is himself pushing, namely: 'Private Stock Maryland Rye', 'Lake Superior Pure Rye' and the celebrated 'Storm Rye'. When Mr. Martini first came to the mines of Michigan an interesting incident arose. He gave his name to the clerk, but the latter being unable to spell it, christened him 'Mike Murphy'. He is still jokingly called 'Big Mike' by his many friends. Mr. Martini has traveled all over the world, and before coming to America spent some time in Africa, worked on the Suez Canal, and also visited Russia and Turkey. In 1881 G. Martini was united in marriage to Jane Jauck, a lady of German birth and ancestry, and they have a daughter, Ettie, wife of John Bandettini, who lives at the home of our subject. Mr. Martini served in the Village Council very ably, and is a member of the Knights of Pythias, and the Independent Order of Odd Fellows
Ad blocker interference detected!
Wikia is a free-to-use site that makes money from advertising. We have a modified experience for viewers using ad blockers

Wikia is not accessible if you've made further modifications. Remove the custom ad blocker rule(s) and the page will load as expected.