"Acting under this amendment, written charges signed by many more than the constitutional number were read at the meeting on Dec. 8, followed by a demand that conduct of the local's affairs be turned over to me, Guy E. Miller, the delegated agent of President Moyer."
Guy Elmer Miller was a member of the Western Federation of Miners during the Copper Country Strike of 1913–1914, as well as a member of the Executive Board of the W. F. of M.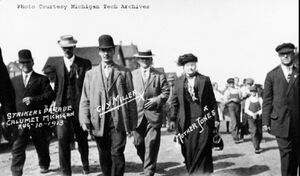 Ad blocker interference detected!
Wikia is a free-to-use site that makes money from advertising. We have a modified experience for viewers using ad blockers

Wikia is not accessible if you've made further modifications. Remove the custom ad blocker rule(s) and the page will load as expected.