The Isle Royale Queen was a passenger ship for Isle Royale, it was succeeded by the Isle Royale Queen II.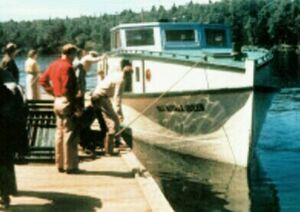 Beginning
Edit
In addition, he would on occasion make a trip to Canada to what is now called Thunder Bay. The price for a round trip at that time was $5.00.
The increasing demand to go to the island convinced Charles Kauppi to add to his fleet. Within two years, he acquired the 52-foot, wooden hulled combination fishing and passenger boat and christened her the Isle Royale Queen I. This boat was certified by the USCG and Charlie could now legally operate a set schedule to the island and back. He ran both boats as well as his commercial fishing business until his death in 1955 at which time the Copper Queen was sold to the Grand Portage-Isle Royale Transportation Service and was re-christened the Voyageur where she served the island from Grand Portage, Minnesota. The Isle Royale Queen I was sold to Capt. Ward Grosnick of Copper Harbor who continued to run scheduled passenger service to the island.
Ad blocker interference detected!
Wikia is a free-to-use site that makes money from advertising. We have a modified experience for viewers using ad blockers

Wikia is not accessible if you've made further modifications. Remove the custom ad blocker rule(s) and the page will load as expected.