James Lisa was a general merchant of Calumet, Houghton County, Michigan, and one of the city's prominent business men, was born in 1845, at San Martino, Canavese, Italy. As his father was in very moderate circumstances, the youth was obliged to leave school at the age of 12 years in order to assist and add to the family resources, but he continued to study, and received instruction from Professor Marta and two lady teachers by the name of Sissoldo, one of whom is since deceased, and the other of whom has since become a nun.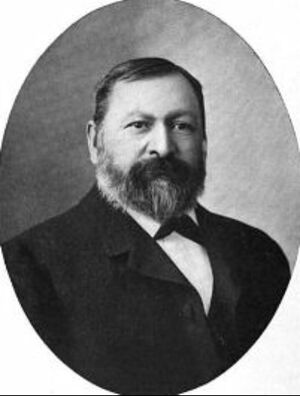 Biography
Edit
Our subject had made such progress in his studies that at the age of 16 years, when he met with Sir Knight Torreano, he attracted this nobleman's attention, and by him was encouraged to take a teaching course. This he did, and received his diploma, and although he has never used the same, he has not had cause to regret the training he received. In 1873 he came to America and settled immediately at Calumet, where he was employed first at the works of the Calumet & Hecla Mining Company as a laborer, but after some eight months he went to Chicago, where he worked at various occupations until 1877, when he returned to Calumet and entered the employ of a grocer named Peroglio, soon after accepting a clerical position with the mercantile firm of Nappa & Company. In 1880 Mr. Lisa embarked in a grocery business of his own at the present location of the Gardetto Building on Fifth Street. From a very humble beginning his business kept on expanding until he was obliged to seek larger quarters and he rented a location across the street where Anthony Ester is now situated. His next change of place was to the present site of the Haas clothing store, but in 1890 he purchased the corner on Oak and Sixth Street and there erected a substantial three story building and filled it with a large stock of seasonable and first class merchandise. Mr. Lisa has prospered on account of his business ability and perseverance and is now one of the substantial and respected citizens. Prior to coming to America, Mr. Lisa married Martha Nida in Italy, and they have had a family of eight children born to them, seven of whom survive, viz.: Josephine, wife of Morris Bandettini, of Calumet, Michigan; Julia, bookkeeper in her father's store; Mary, a trained nurse at the Calumet & Hecla Hospital; Angeline, an assistant in her father's store; and Irene, Catherine and James, who are students. In politics Mr. Lisa is a Republican, and has served in the City Council. For 25 years he has been an Odd Fellow and belongs also to the Ancient Order of United Workmen and the Perrone, - an Italian society. Since 1895 he has served as consular agent for Italy for the Upper Peninsula.
Ad blocker interference detected!
Wikia is a free-to-use site that makes money from advertising. We have a modified experience for viewers using ad blockers

Wikia is not accessible if you've made further modifications. Remove the custom ad blocker rule(s) and the page will load as expected.