Jenn Gibbons' Rapist is an unidentified Rapist currently at large in Michigan's Upper Peninsula. He convicted of attacking and raping Jenn Gibbons.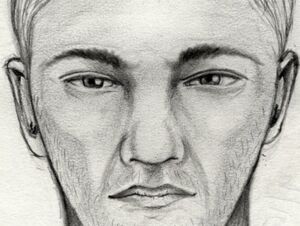 Early Sunday morning, a man broke into the cabin of her 700-pound row boat as it was tied to a dock in Schoolcraft County, Mich.
"In the morning hours Sunday, I was attacked and sexually assaulted, and fortunately I was able to get myself out of the situation and call the police, and get to safety," Gibbons said in a phone interview with CBS 2's Marissa Bailey. "There was an outhouse on the premises, and so I was able to get to the premises, or get to the outhouse, and go in there, and lock myself in there."
Her attacker got away, but she was able to provide police with a detailed description, as well as a description of the Jeep that Gibbons saw near the area that night.
Description
Edit
He is described as white and in his 30s, about 5 feet 8 inches to 6 feet tall, with a fair amount of facial stubble but not a full beard or mustache.
He has light eyes, an average to athletic build, and shorter, well-kept hair.
The man was last seen wearing a grayish-green T-shirt, jean shorts, and tennis shoes. A bright yellow Jeep Wrangler was seen in the area, with a spare tire mounted on the back with a smiley face on the cover.
It is believed that Gibbons' attacker might have been following her blog and tracked her to Michigan.
Ad blocker interference detected!
Wikia is a free-to-use site that makes money from advertising. We have a modified experience for viewers using ad blockers

Wikia is not accessible if you've made further modifications. Remove the custom ad blocker rule(s) and the page will load as expected.