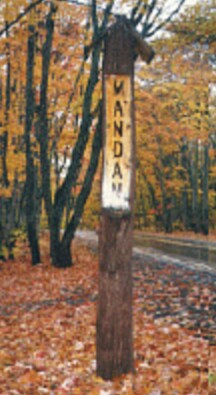 About 12 miles southwest of Copper Harbor is the old ghost town of Mandan, a tiny mining town that was vacated in 1909. It was the site of the Mandan Mine and the Medora Mine.
At the turn of the century Mandan had a few hundred residents with a few dozen houses. Today, only a few of the buildings remain. Over the years there was a post office and a general store and Mandan marked the end of the line for the Keweenaw Central Railroad.
And of course, Mandan Road is one of the most scenic drives in the Keweenaw to see the fall colors. A worthwhile loop to take.
Ad blocker interference detected!
Wikia is a free-to-use site that makes money from advertising. We have a modified experience for viewers using ad blockers

Wikia is not accessible if you've made further modifications. Remove the custom ad blocker rule(s) and the page will load as expected.