Manistique, also Monistique, is the only incorporated city in and the county seat ofSchoolcraft County[6] of the U.S. state ofMichigan's Upper Peninsula . As of the 2010 census, the city population was 3,097. The city lies on the north shore of Lake Michigan, at the southwest corner of Manistique Township, but is politically autonomous. Manistique was founded where the Manistique River flows into Lake Michigan, forming somewhat of a natural harbor, which has since been improved with breakwaters,dredging, and a lighthouse. The city takes its name from the Manistique River.[7] The economy also depends heavily on tourism.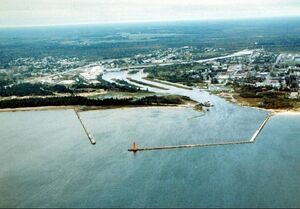 Originally named Eastport, Manistique replaced Onota as the county seat.[8]Manistique was incorporated as village In 1885 and a city in 1901 by the state legislature. With the river originally spelled Monistique, a spelling error in the city charter led to its current spelling.[7]
Geography
Edit
According to the United States Census Bureau, the city has a total area of 3.51 square miles (9.09 km2), of which 3.19 square miles (8.26 km2) is land and 0.32 square miles (0.83 km2) is water.[1]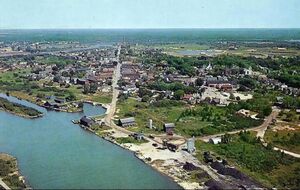 Transportation
Edit
US 2
M‑94
Indian Trails provides daily intercity bus service between St. Ignace and Ironwood, Michigan.[9]
Demographics
Edit
Historical population
Census
1880
693

—

1910
4,722

—

1970
4,324

—

1980
3,962
−8.4%
1990
3,456
−12.8%
2000
3,583
3.7%
2010
3,097
−13.6%
Source: Census Bureau. Census 1880, 1970, 1980, 1990, 2000, 2010.
2010 census
Edit
As of the census[2] of 2010, there were 3,097 people, 1,383 households, and 765 families residing in the city. The population densitywas 970.8 inhabitants per square mile (374.8 /km2). There were 1,617 housing units at an average density of 506.9 per square mile (195.7 /km2). The racial makeup of the city was 86.0% White, 0.2% African American, 9.7% Native American, 0.2% Asian, 0.1% fromother races, and 3.9% from two or more races. Hispanic or Latino of any race were 1.0% of the population.
There were 1,383 households of which 27.9% had children under the age of 18 living with them, 37.5% were married couples living together, 12.6% had a female householder with no husband present, 5.3% had a male householder with no wife present, and 44.7% were non-families. 40.3% of all households were made up of individuals and 20.3% had someone living alone who was 65 years of age or older. The average household size was 2.15 and the average family size was 2.87.
The median age in the city was 43 years. 23% of residents were under the age of 18; 7.3% were between the ages of 18 and 24; 22.4% were from 25 to 44; 26.6% were from 45 to 64; and 20.6% were 65 years of age or older. The gender makeup of the city was 46.3% male and 53.7% female.
This climatic region is typified by large seasonal temperature differences, with warm to hot (and often humid) summers and cold (sometimes severely cold) winters. According to the Köppen Climate Classification system, Manistique has a humid continental climate, abbreviated "Dfb" on climate maps.[10]
Ad blocker interference detected!
Wikia is a free-to-use site that makes money from advertising. We have a modified experience for viewers using ad blockers

Wikia is not accessible if you've made further modifications. Remove the custom ad blocker rule(s) and the page will load as expected.