Nee-Gaw-Nee-Gaw-Bow (Leading Man): A sculpture to honor the Chippewa (Ojibwa) Indians — part of his 50 state Trail of the Whispering Giants series by Peter Wolf Toth. Located on the lakeside pier next to the Wakefield Visitor's Center at Sunday Lake, in Wakefield, Gogebic County, in the western Upper Peninsula of Michigan. The 20 feet (6.1 m) tall sculpture was carved from a single piece of pine, donated by the Ottawa National Forest.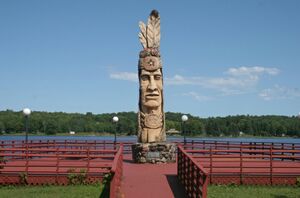 Ad blocker interference detected!
Wikia is a free-to-use site that makes money from advertising. We have a modified experience for viewers using ad blockers

Wikia is not accessible if you've made further modifications. Remove the custom ad blocker rule(s) and the page will load as expected.