The Ontonagon Indian Reservation is the homeland of a branch of the Lake Superior Chippewa Tribe. It is located in northeastern Ontonagon Township, in northeastern Ontonagon County, on the south shore of Lake Superior, about 20 km northeast of the village of Ontonagon, Michigan, USA. The reservation has a land area of 3.775 sq mi (9.777 km²) and had no resident population as of the 2000 census.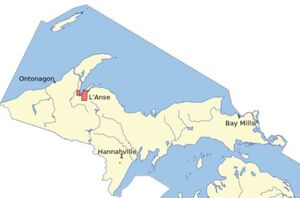 Ad blocker interference detected!
Wikia is a free-to-use site that makes money from advertising. We have a modified experience for viewers using ad blockers

Wikia is not accessible if you've made further modifications. Remove the custom ad blocker rule(s) and the page will load as expected.