Paul Bunyan is a giant lumberjack in American folklore.[2][3] His exploits revolve around the tall tales of his superhuman labors,[4][5] and he is customarily accompanied by Babe the Blue Ox. The character originated in the oral tradition of North American loggers[2][3][4][5] and was later popularized by freelance writer William B. Laughead (1882–1958) in a 1916 promotional pamphlet for the Red River Lumber Company.[6] He has been the subject of various literary compositions, musical pieces, commercial works, and theatrical productions.[3] His likeness is displayed in several oversized statues across North America.[7][8]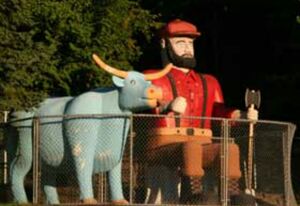 Etymology
Edit
There are many hypotheses about the etymology of the name Paul Bunyan. Much of the commentary focuses on a Franco-Canadian origin for the name. Phonetically Bunyan is similar to the Québécois expression "bon yenne!" expressing surprise or astonishment. The English surname Bunyan derives from the same root as bunion in the Old French bugne, referring to a large lump or swelling. Several researchers have attempted to trace Paul Bunyan to the character of Bon Jean or Tit Jean of French Canadian folklore.[9]
Paul Bunyan and the Frozen Flames
Edit
One winter, shortly after Paul Bunyan dug Lake Michigan as a drinking hole for his blue ox, Babe, he decided to camp out in the Upper Peninsula. It was so cold in that there logging camp, that one evening, the temperature dropped to 68 degrees below zero. Each degree in the camp thermometer measured sixteen inches long and the flames in the lanterns froze solid. No one, not even Paul Bunyan, could blow them out. The lumberjacks didn't want the bunkhouse lit at night, because they wouldn't get any sleep. So they put the lanterns way outside of camp where they wouldn't disturb anyone. But they forgot about the lanterns, so that when thaw came in the the early spring, the lanterns flared up again and set all of northern Michigan on fire! They had to wake Paul Bunyan up so he could stamp out the fire with his boots.
Ad blocker interference detected!
Wikia is a free-to-use site that makes money from advertising. We have a modified experience for viewers using ad blockers

Wikia is not accessible if you've made further modifications. Remove the custom ad blocker rule(s) and the page will load as expected.