Peter Grivas came to Marquette in 1910. He and his wife, Aphrodite, opened the Green Mill Restaurant on Washington Street and remained in the restaurant business for about 40 years, later operating the Jet Grill on South Front Street.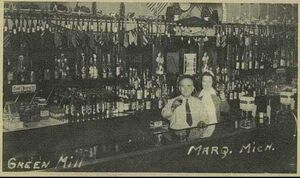 Ad blocker interference detected!
Wikia is a free-to-use site that makes money from advertising. We have a modified experience for viewers using ad blockers

Wikia is not accessible if you've made further modifications. Remove the custom ad blocker rule(s) and the page will load as expected.