Along the trail towards the Upper Falls at Tahquamenon Falls State Park is the "Prayer  Of The Woods." The prayer has been used in Portuguese forest reservations for more than 1,000 years and can be found at state parks, national forests, and national parks across Michigan, the United States, and the world. Another sign when you enter the park reads, "Take nothing but pictures, leave nothing but footprints." It's something valuable to remember the next time you find yourself sauntering through the woods.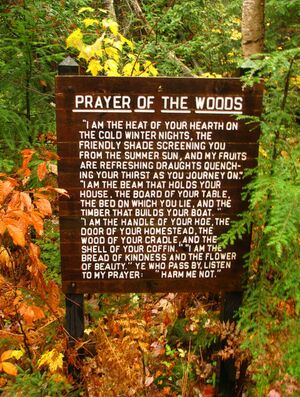 Ad blocker interference detected!
Wikia is a free-to-use site that makes money from advertising. We have a modified experience for viewers using ad blockers

Wikia is not accessible if you've made further modifications. Remove the custom ad blocker rule(s) and the page will load as expected.