The Quincy Dredge Number Two (previously known as the Calumet and Hecla Dredge Number One) is a dredge currently sunk in shallow water in Torch Lake, across M-26 from the Quincy Mining Company Stamp Mills Historic District and just east of Masonin Osceola Township.[2] It was constructed to reclaim stamping sand from the lake for further processing, and was designated a Michigan State Historic Site in 1978.[1]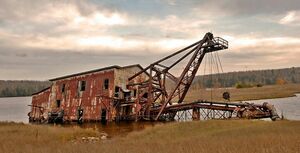 The Reclaiming Sand Dredge was constructed for the Calumet and Hecla Mining Company in 1914 by the Bucyrus Company of South Milwaukee, Wisconsin,[3]and designated the Calumet and Hecla Dredge Number One.[1] The dredge was used to reclaim previously-milled sand deposited in the lake after if had gone through the stamp mill.[4] The dredged sand contained copperthat earlier stamping technology had not been able to separate out.[4] Improvements in stamping efficiency and cost increases in traditional shaft mining made these sand tailings economically feasible to reclaim and re-stamp.[4]
Calumet and Hecla used the dredge at their Lake Linden Reclamation Plant until 1951.[2]In 1951, the Quincy Mine purchased the dredge and designated it as their Quincy Dredge Number Two, using it at their own reclamation facility,[2][4] which had been in operation since 1943.[5] The mine's Quincy Dredge Number One sank in 1956, and Dredge Number Two was used until 1967,[2]when it too sank during a winter lay-up.[4] By this time, copper prices had fallen low enough that the reclamation process was not profitable, and the Quincy Mine abandoned both the dredge and its reclamation facility.[4]
Description
Edit
The dredge is a large, box-like vessel that was used to remove sand from the bottom of the lake.[2] The vessel has a steel hull measuring 110 feet (34 m) long, 56 feet (17 m) wide, and nine feet (2.7 m) deep.[3] The decking overhangs the hull by eight feet (2.4 m) per side, giving an overall width of 72 feet (22 m).[3] The dredge could process over 10,000 short tons (9,100 t) of sand per day, and had a 141-foot (43 m) suction pipe that could work in 115 feet (35 m) of water.[2]
The dredge is currently sunk in shallow water, and canted over to one side.[4] Most of the superstructure and the large boom are visible above the waterline.[4]
Ad blocker interference detected!
Wikia is a free-to-use site that makes money from advertising. We have a modified experience for viewers using ad blockers

Wikia is not accessible if you've made further modifications. Remove the custom ad blocker rule(s) and the page will load as expected.