The Quincy Smelter is the only remainingcopper smelter in the Lake Superior region. It is located north of the Portage Lake Lift Bridge in Ripley, Michigan. It was operated by the Quincy Mine until 1972 and processed ore from 13 local mines.[1]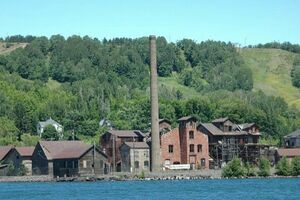 There is currently controversy over what should be done with the land which is currently owned by Franklin Township.[2] The EPA and National Park Service want to turn the site into a historical self-tour or fishing and picnicking area. Other ideas include creating a restaurant, shops, or condos on the site [3] and moving the Houghton headquarters for Isle Royal National Park to the site.[4]
A fire destroyed the carpentry shop and damaged a wood storage lean-to on the site in September 2010.[5] In early 2011, parts of the site were inventoried and made more secure. In the summer of 2011, $1 million in federal Interior Department funding will allow additional site to be inventoried, stabilized, and secured.[6]
Some of the historic buildings at the Quincy Smelter appear in the racing games Dirt 3 and Dirt: Showdown.
See also
Edit
Ad blocker interference detected!
Wikia is a free-to-use site that makes money from advertising. We have a modified experience for viewers using ad blockers

Wikia is not accessible if you've made further modifications. Remove the custom ad blocker rule(s) and the page will load as expected.