The Motor Vessel Ranger III is the largest piece of moving equipment owned and operated by the National Park Service and the largest passenger ferry providing service to Isle Royale National Park. The Ranger III is 165 feet long, 34 feet wide, 648 ton vessel that carries 128 passengers. The ship with its crew of nine, offers interpretive and educational programs, a luncheon grill, three staterooms, four comfortable lounges, two decks and indoor and outdoor seating for passenger comfort. Unlike other service providers, the Ranger III offers transportation for private boats up to 20'00" or less and offers its patrons free parking at a secure lot. The ship operates out of Houghton, in Michigan's Upper Peninsula.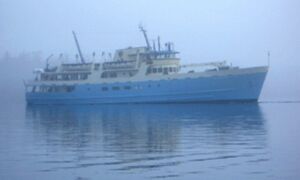 Ad blocker interference detected!
Wikia is a free-to-use site that makes money from advertising. We have a modified experience for viewers using ad blockers

Wikia is not accessible if you've made further modifications. Remove the custom ad blocker rule(s) and the page will load as expected.