Saint Ignatius Loyola Church is a church located at 703 East Houghton Avenue in Houghton, Michigan. The church was designated a Michigan State Historic Site in 1977[2] and listed on the National Register of Historic Places in 1987.[1]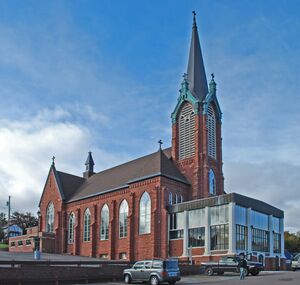 Early Roman Catholics living in Houghton met for worship first in a boarding house and later in a school.[2] Bishop Frederic Baraga, then located in L'Anse, Michigan, spearheaded efforts to build a new church.[3] Ground was broken for the new church in early 1859, and on July 31, 1859, Bishop Frederic Baragadedicated the original St. Ignatius Loyola Church.[3]
Beginning in 1959, a long list of priests were assigned to the church, all of whom served for only a short time.[3] However, in 1895, Father (later Monsignor) Antoine Ivan Rezekwas appointed pastor to the parish.[2] In the late nineteenth century, the Keweenaw Peninsula had seen an explosive growth due to the local copper mining industry, and a substantial, ethnically diverse population of Catholics had taken up residence in the Houghton area.[2] One of Rezik's first priorites was the erection of a new church. Rezek hired the Milwaukee architectural firm of E. Brielmaier and Sons to design the church; Brielmaier designed a number of Catholic churches in the western Upper Peninsula in the late nineteenth and early twentieth centuries.[2] Construction on this building began in 1898, and the church was finished in 1902.[2] Anton Ivan Rezek remained as pastor of the church for a total of 51 years, intil 1946.[3]
Three significant additions to the building were made in later years: a boxy, glassed-in portico, added in 1928, a rear addition, added between 1959 and 1964, and a connected building added in 1991-1992.[2][3] Further interior renovations were made in 1959 and in the late 1980s.[3]
Description
Edit
St. Ignatius Loyola Church is an imposingNeo-Gothic structure located on the hillside above downtown Houghton.[2] It is constructed of red, Jacobsville sandstonewith a symmetrical gabled facade centering on a square tower topped with a spire. The tower belfry contains a single brass bell, cast in 1860 by the Jones and Hitchcock Company of Troy, New York.[2]
Stained glass windows, created by Gavin Art Glass Works of Milwaukee, were installed in the church in 1907. An elaborate Gothic altar adorns the nave.[2]
Ad blocker interference detected!
Wikia is a free-to-use site that makes money from advertising. We have a modified experience for viewers using ad blockers

Wikia is not accessible if you've made further modifications. Remove the custom ad blocker rule(s) and the page will load as expected.