Samuel P. Ely was the former mayor of Marquette, Michigan from 1872-1873.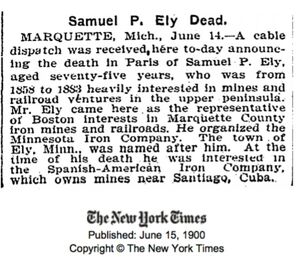 Mayoral Status
Edit
Predecessor: Henry Stafford
Successor: Alfred Swineford
Samuel Ely becomes the Marquette mayor in 1872. To celebrate his friend's success, Peter White begins the first city library. - Marquette becomes connected to national railroads via Escanaba, Menominee and Chicago.
Ad blocker interference detected!
Wikia is a free-to-use site that makes money from advertising. We have a modified experience for viewers using ad blockers

Wikia is not accessible if you've made further modifications. Remove the custom ad blocker rule(s) and the page will load as expected.