The 
Sault Ste. Marie International Bridge
, often known just as the 
International Bridge
, spans the 
St. Mary's River
 between the United States and Canada connecting the twin cities of 
Sault Ste. Marie
, Michigan and Sault Ste. Marie, Ontario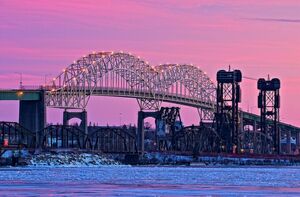 . It serves as the northern terminus of Interstate 75 (I-75). The International Bridge began construction in 1960 and officially opened to traffic on October 31, 1962.
[2]
 Daily operation is carried on by the International Bridge Administration (IBA) under the supervision of the Sault Ste. Marie Bridge Authority (SSMBA). The SSMBA replaced the previous Joint International Bridge Authority (JIBA) in 2009, which in turn had succeeded the International Bridge Authority (IBA, created in 1935) in 2000.
In 1954 the state of Michigan created the International Bridge Authority. [3] Canada followed in 1955, creating the St.Mary's River Co. [3]
This is a steel truss arch bridge with suspended deck. There are two separate spans, a double arch span on the U.S. side and a single arch span on the Canadian side. The double arch spans cross the four U.S.Soo Locks. The single arch spans the singleCanadian Lock. In Sault Ste. Marie, Ontario, the bridge ends at a city street, Huron Street, in the downtown core.
The total length of the bridge approaches 2.8 miles (4.5 km). The Bridge Authority allows bicycles to cross; however, there are no dedicated bike lanes. Cyclists must take proper precautions to ensure visibility.
Beginning in 1987, an annual International Bridge Walk has been held on the last Saturday in June, starting on the Michigan side, with participants finishing in Ontario.
Expansion
Edit
On June 6, 2005, the Ontario government announced a construction project to build a dedicated truck bypass route to connect the bridge to Highway 17 in the north end of the city. The city had lobbied for this for some time, since the bridge's terminus at a city street was viewed by many residents of the city as a safety concern; however, the bridge terminus itself cannot be easily relocated due to the already highly urbanized nature of the Sault, Ontario waterfront. The truck route, known as Carmen's Way in memory of the city's former federal MP Carmen Provenzano, was officially opened in September 2006.
Construction work subsequently commenced in 2009 on a project to expand and modernize the Canadian bridge plaza, including a largerCanada Border Services Agency building with improved truck inspection facilities and a dedicated route to take trucks directly to Carmen's Way, thereby eliminating the need for trucking traffic to enter Huron Street.[4]
Beginning in May 2014, construction work commenced on improvements to the plaza on the Michigan side of the bridge.[5]
Services
Edit
A tourist information radio station, CIRS, broadcast at 530 AM from the Ontario side of the bridge until 2010.
Ad blocker interference detected!
Wikia is a free-to-use site that makes money from advertising. We have a modified experience for viewers using ad blockers

Wikia is not accessible if you've made further modifications. Remove the custom ad blocker rule(s) and the page will load as expected.