The Sleeper Lake Fire was a wildfire that occurred north of the Village of Newberry in Luce County, Michigan. The fire most likely started with a lightning strike on August 2, 2007 near Sleeper Lake.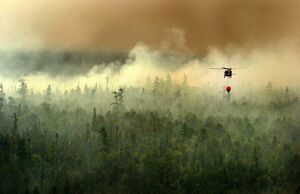 Fire progression
Edit
The fire began in the vicinity of Sleeper Lake and burned towards the southeast over largely uninhabited marsh and bogs. By August 5, 2007, southeasterly winds began to push the fire towards the north, threatening structures and forcing nearby residents to evacuate.[1] By that point, the fire had burned an estimated 12,000 acres (49 km2).[1] By August 13, the burned area had increased to 18,500 acres (75 km2).[2]
Ad blocker interference detected!
Wikia is a free-to-use site that makes money from advertising. We have a modified experience for viewers using ad blockers

Wikia is not accessible if you've made further modifications. Remove the custom ad blocker rule(s) and the page will load as expected.