Sucker Creek drains out of Brush Lake on a swampy trek north to the Ontonagon River system. Before going through the long journey of difficult swamps and beaver dams it creates a pleasant little drop right at the outlet of Brush Lake known as Ajibikoka Falls. Technically a multi-tiered drop, the first half is clogged with rocks and boulders that swallows up the water most of the year, leaving a small cascade of fanning drops at the bottom the main feature here.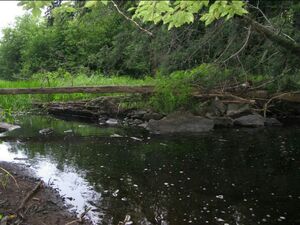 Ad blocker interference detected!
Wikia is a free-to-use site that makes money from advertising. We have a modified experience for viewers using ad blockers

Wikia is not accessible if you've made further modifications. Remove the custom ad blocker rule(s) and the page will load as expected.