Unidentified Gray Wolf (Manistique, Michigan) is a wild gray wolf recently spotted near Manistique, Michigan.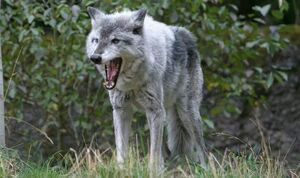 September 12, 2014 4:00 pm
The Manistique Public Safety Department reports a grey wolf was spotted in the city of Manistique near the marina boardwalk.
The wolf was spotted around 3:30 p.m. Friday.
Police urge all citizens using the area to be on the lookout for the animal and call 911 immediately if the wolf is spotted again.
Ad blocker interference detected!
Wikia is a free-to-use site that makes money from advertising. We have a modified experience for viewers using ad blockers

Wikia is not accessible if you've made further modifications. Remove the custom ad blocker rule(s) and the page will load as expected.