Water Lily was a small vessel that traveled to and from Isle Royale. The ship itself was captained by Charles Kauppi, It's registered port was Copper Harbor.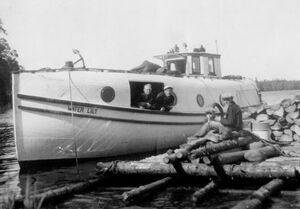 [Taken From Blog] Kauppi's first ferry boat sailing between Copper Harbor and Isle Royale. He began his charter service in 1930 and it proved to be successful. Of course before that there were several ways to get to the island: from Houghton on boats or seaplane; by one or more passenger vessels which sailed around Lake Superior and other Great Lakes; and from Grand Portage, Minnesota, and probably Port Arthur on Thunder Bay, Canada. In fact, I once saw an ad for a round trip from Buffalo, Ohio, to Isle Royale for $29.00.
There may have been other owners after Olson but I am aware of only one, John Fallon, of Hancock, Michigan. My youngest son, Capt. John, is betrothed to John Fallon's youngest daughter, Stefanie. Before he passed away in 2006, Fallon told me that he was the last owner and after that the boat was demolished probably by burning it. He kept the sidelights for a souvenir.
Ed Olson told me that for a few years he ran fishing charters to Isle Royale with the Water Lily out of Eagle Harbor, it being an attractive spot to embark for the island because it was the nearest Michigan port to the island, only 48 statute miles. I suspect the picture was taken at Olson's dock in Eagle Harbor.
Retirement
Edit
After several years operating the Water Lily to Isle Royale, Kauppi determined that he needed to expand. Accordingly, in about 1936, he contracted with a local boat builder to fabricate the wooden hulled, 48-foot boat called the Copper Queen, a handsome yacht-like craft with a straight stem and a slightly rounded transom. Her fairing was exceptionally graceful from stem to stern. There is a nice picture of her in my first post. In the meantime, he sold the Water Lily to Ed Olson of Eagle Harbor.
Ad blocker interference detected!
Wikia is a free-to-use site that makes money from advertising. We have a modified experience for viewers using ad blockers

Wikia is not accessible if you've made further modifications. Remove the custom ad blocker rule(s) and the page will load as expected.