NMU's mascot, Wildcat Willy, has many lives. Since a real, live bobcat on campus in the 60s was not a success, Willy has remained two-dimensional but has experienced a number of surprising looks.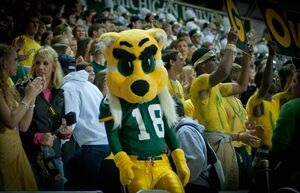 One of the first records of Willy is a history written by a former wildcat in the winter edition of Horizons, the alumni magazine at NMU. The article talks about what it was like for 1989 graduate Jay McQuillan to be Willy during hockey games. McQuillan was instrumental in promoting Willy's image on campus, including changing the name from "Willie" to "Willy" and making the mascot fully clothed. The pictures on the internet version of the article aren't great, but it's clear that Willy's head back then was mostly mouth.
It's also interesting that The North Wind spells his name "Wildcat Willie" even though the Horizon's article above says that his name was changed to "Willy" in 1984-1985.
In the interim, there are a number of other Willy looks. The USOEC featured a rendition of Willy that's very tough looking for some clothing.
Ad blocker interference detected!
Wikia is a free-to-use site that makes money from advertising. We have a modified experience for viewers using ad blockers

Wikia is not accessible if you've made further modifications. Remove the custom ad blocker rule(s) and the page will load as expected.