"When a human being ceases to do constructive thinking, ceases to find new and better ways of living, he is as dead as any corpse in a cemetery."

Woodbridge Nathan Ferris (January 6, 1853 – March 23, 1928) was an educator from New York, Illinois and Michigan, as well as Democratic statesman and the 28th Governor of Michigan (1913–1917).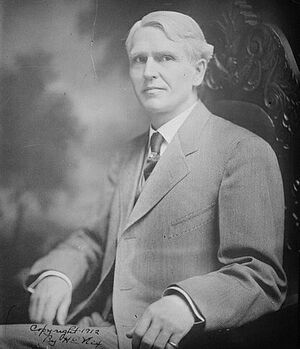 Copper Country Strike
Edit
During the seemingly never ending Copper Country Strike of 1913–1914, local Houghton County Sheriff James Cruse, local mining company owners and Calumet and Hecla Mining Company President James MacNaughton called for Governor Woodbridge Ferris to deploy Michigan National Guard troops to keep the peace. The governor did so, which led to many confrontations, some violent, between strikers and troops.
"Lawlessness broke loose throughout district today. Northwestern train windows smashed with rocks. 30 men broke into workmen's home at Quincy. Row with deputies at Quincy. Paraders at Calumet armed with clubs. Three fights, 2 deputies badly cut up. 13 strikers arrested. 4 arrests near Ahmeek for shooting up workmen's premises. 2 arrests at Allouez. Picketing throughout entire district." —Michigan National Guard General Perley Abbey to Governor Woodbridge Ferris, October 23, 1913
Ad blocker interference detected!
Wikia is a free-to-use site that makes money from advertising. We have a modified experience for viewers using ad blockers

Wikia is not accessible if you've made further modifications. Remove the custom ad blocker rule(s) and the page will load as expected.